As long as the test in question has been shared by the creating instructor you can add this test to your class by doing the following.
First go to 'Manage Tests' on the top red toolbar, then Create New Test
Now you will fill out the new test information as if you're creating a test yourself. Give it a name and title. Please remember the 'Provider Level' and 'Test Type' have to be the same as the test you are importing from the other instructor. Below you see that I've picked Paramedic for Provider Level and Quiz for Test Type. Because the test the other instructor shared is both Paramedic and Quiz, it allows you to choose it in the 'Import Test From' Drop down menu (This menu only appears once you've selected the two options before it, and it has something to display).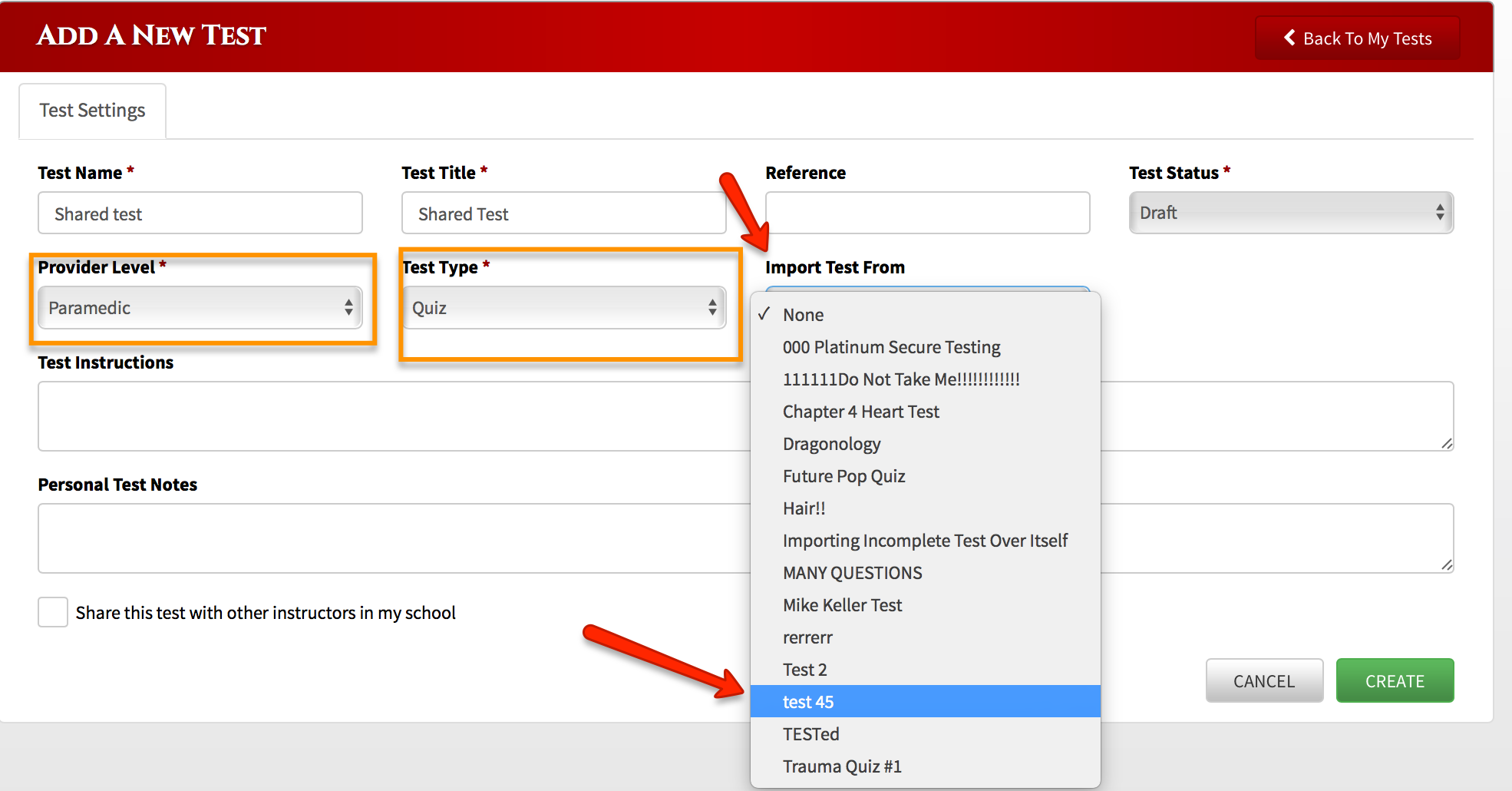 Under the 'Import Test From' Dropdown Menu, you'll click on the test you'd like to import. In this case, I'm importing "Test 45," which I know to be the test another instructor in my school has set to "shared."
Once you select the test you'd like to import from it will warn you that, once imported, you cannot change any of the questions, and will overwrite any questions you've already set for this test, in this case this is a fresh test so nothing will be overwritten.
Although you can't edit any of the questions, the "Test Questions" Tab still appears so you can go through the questions and make sure this is the test that you require.
Now click back on the "Test Settings" tab, and if you are happy with the test, click "Save" on the bottom right. Now, this test is saved in your instructor account and can be deployed in your class like normal.
For instructions on how to Share a test you've made go to this article here
If you still have questions, please give us a call at 616-818-7877 or send in a support request via the "Help" button.