This article will point out some of the common issues users have when trying to add their own instructor-created questions on to tests.
If you are having problems pulling your instructor-created questions onto a test it is likely there is an issue with the settings of your questions. So a good place to start is to verify that your questions are set up properly.
Instructor Created Question Troubleshooting:
1. Login and select your Instructor role for EMSTesting or Platinum Tests. To review your questions you will click on the Manage Questions link in your red toolbar.

2. Locate your question and click edit. From your Question Search page, you can create new questions or manage existing questions. Here you can either utilize the search field or click through your pages to locate the questions that you are having issues pulling onto a test.
There is a color coding system for the questions that can help identify a potential hang-up.
Yellow:

These questions have the status of either Pilot, Approved, or Draft.

Red:

Questions that appear in red have the status of Disabled. Questions with these statuses can not be pulled onto a new test.

Green:

Questions that appear in green have the status of Active.
3. Ensure your question must be marked as active. If you have a question that has a prohibitive status, you can change the status by going to the Properties tab and changing the Status dropdown to Active.
4. Your question must have at least one answer selected. If you do not have a correct answer indicated, your question can not be saved as active. The system will default the question back to Draft status. Once you have marked a correct answer selected under the Answers/Annotation tab, you can go back to the properties tab and adjust the Status setting to Active and save your question.
5. You must have a curriculum associated with the question. Even if you intend on pulling your questions via Keyword, Text, or ID. Having a curriculum assigned to questions is integral for Platinum Educational Group to deliver the reporting that we do. It also lets the program know when it is appropriate to include material in the searches you will use to find your content.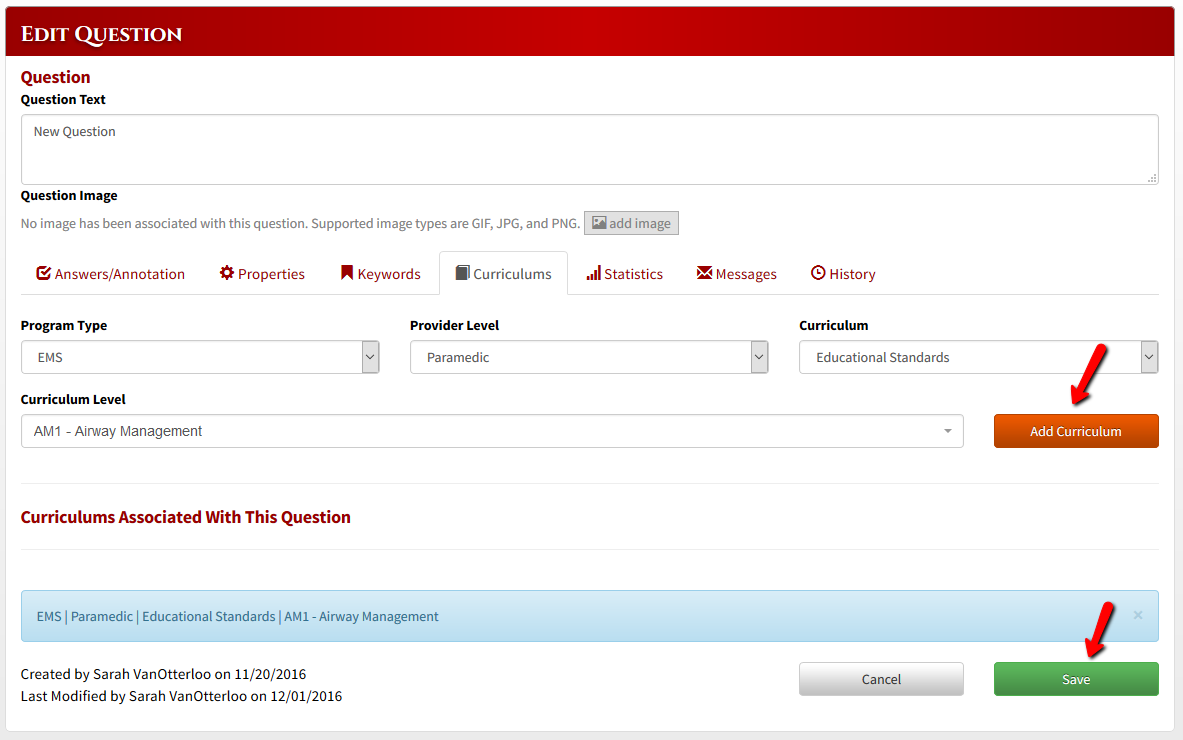 Once you have selected your Program Type,Provider Level, Curriculum, and Curriculum Level make sure to click Add Curriculum, then Save.
Note: Make sure to click Add Curriculum, if you skip that step, it WILL NOT save the chosen curriculum for the question.
6. Check Search Criteria. If all of the settings listed above are set up correctly your question should be available to pull onto a test, so if you are still experiencing problems it may have to do with your test settings or search criteria.
Provider Level: The provider level of the test you are creating must match the provider level you assigned to your questions.

When you choose the provider level of a test on the Test Settings tab the program is already sorting the potential questions to include only questions appropriate for that level. If you assigned a different level to your question it will not be a potential option for this test.

ie: EMT questions cannot be added to an AEMT exam.

Question Bank: Make sure you are choosing the appropriate bank.

When you are selecting your search criteria, whether you are utilizing Pull Questions By Curriculum or Pull Questions By Text, Keyword, or ID make sure you are changing the Question Bank drop-down to either My questions or My Schools Questions. In the program, we keep your questions and our questions in separate banks. If you are not choosing the appropriate bank the system will be unable to locate your question.