Platinum's Group Testing is an exciting way to add a group trivia experience to your class tests!
On the instructor home page in current classes, expand one of your current classes to see the Group Testing button.
Select the Group Testing button and start a new group test by clicking the large red Create a Room button.
Note: If you already have started a test and then left the test, you will see that test displayed with its room code in the Active Tests area. You can click on that to resume your test.
Start a New Group Test
You will see some information on the left with the heading Student Instructions: when you initially see the page. That information is displayed to help your students join on their mobile device. But first, you will need to look to the right of the screen to setup your test settings.
Pull Questions From
This button lets you choose where you want to pull your questions from. You can choose a Curriculum or choose questions from a test you created by clicking on My Tests. The options under this will change when you have chosen one to pull your questions from.
Curriculum
Click the dropdown and select a Curriculum, Module or Topic.
My Tests
If you are choosing one of your already created tests, choose that test from the Select a Test dropdown.
All other settings in this section can be toggled on or off. We recommend all of them on for the best group testing experience, but we understand the needs to have them off as well for different classroom experiences.
Now that you have set your group testing settings, have your students go to the emstesting.com/quiz/join link from their browsers on their devices (safari, chrome, etc.).
They will then enter their name and room key (in the large green box) or click on the active test if the test is already setup to play.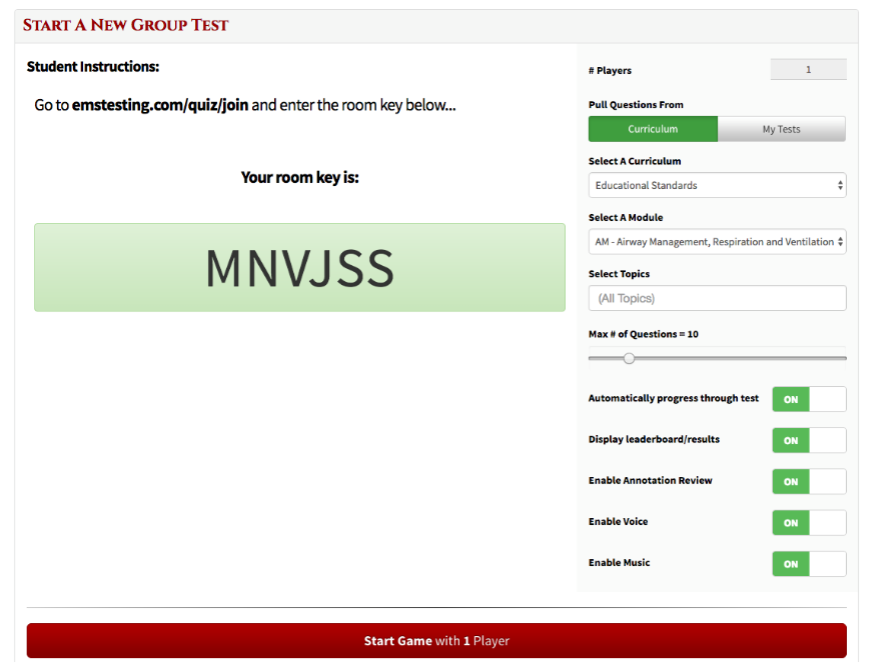 Once you have all your students in (the # Players on the top of the settings section will tell you how many students have joined the room), click on the red Start Game with X Players on the bottom of the screen to begin.
Students will receive a "Get Ready to Answer!" prompt and the first question will begin.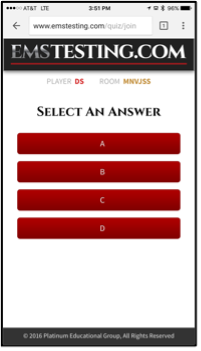 The student will choose from A, B, C, D to select the best answer.
Once the you have completed the test, you will see a leaderboard at the end (if you toggled it on) showing the students rank, score and name. If you would like to start a new game, click the New Game button. If you would like to Exit, click the Exit button.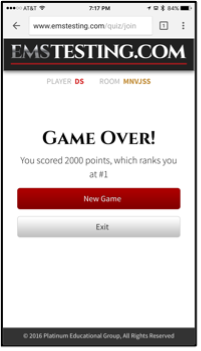 The student will also see their score and rank on their device.
Go to the Reports section for how to run the Group Test Report!