On the Manage Opportunity Request page you will see 3 tabs, Join/Create Requests, Removal Requests and Return Requests.
Join/Create Requests
The Join/Create Requests tab will only be useful if you did NOT click Yes to the Automatically accept student sign-up requests? Yes or No toggle when setting up a clinical opportunity.
To change this, go to the Manage Documentation page.
Choose edit opportunity in the actions column if you would like to change to auto-accept students.
If you would like to continue, go the Actions column, click Accept or Reject next to the student or students you would like to accept into the opportunity.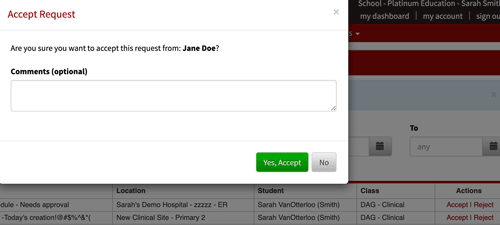 Removal Requests
The Removal Requests tab shows all students asking to be removed from the opportunity.
Click Accept or Reject to remove the student or students from the opportunity. You will be able to send a message to the student if needed to let them know the reason for the removal.
Return Requests
The Return Requests tab is an important one for an instructor. If a student wants to request a return of already submitted documentation to you as their instructor, the request will be under this tab.
Click Accept to return the students documentation.
You can also choose to Reject the request for any reason and include an optional message to the student.