Peer Review
If you are enrolled in a class that is a scenario class, the Scenario menu item will show on the top menu.
Click on Scenarios, then choose Manage Scenario Documentation to begin a peer review for your scenario class. The peer that you are reviewing documentation for will show in the Student column.
When you go to the Manage Scenario Documentation page you will see Upcoming, Ready to Document, Returned, Submitted, Completed and the All tab.
Click on any of the tabs (shown above). If you have no Scenarios yet, you will not see anything listed in the tabs.
Click the View link to view the scenario.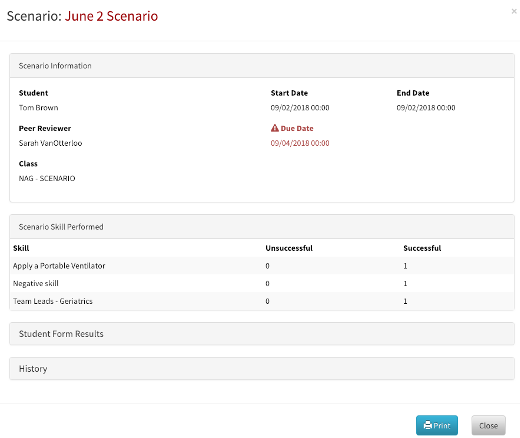 Click the Document link in the actions column to begin documenting the Scenario.
Forms
The Forms tab contains the form(s) you need to complete for the peer review you are documenting. Under Evaluator Type, choose Peer.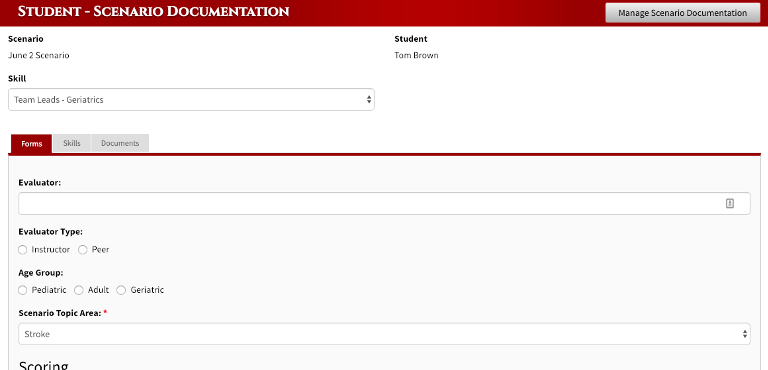 Answer all information, give your evaluator signature and if the peer was successful.
Note: Once you Submit your peer documentation to your instructor you will not be able to edit the documentation unless your instructor returns the documentation back to you for changes.
Skills
The Skills tab will show any skills you have added that were used during the scenario.
Click the Add/Remove Skill(s) button to search or filter skills.
Click the skill to add it to the scenario. Click again if you want to remove it from this scenario.
Note: You will not be able to add locked skills to a scenario.
Documentation
The Documentation tab allows you to drag and drop or click to upload any documents associated with the scenario.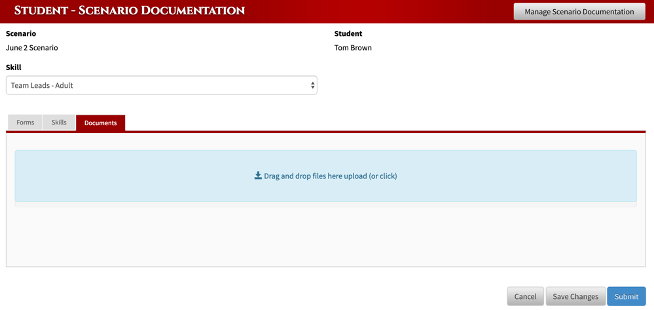 Once you have completed the documentation for your peer you can either Save Changes or Submit your documentation to your instructor. If you choose to Save Changes you can come back and edit the documentation until it is complete.

You can view the documentation you submitted for your peer in the Submitted tab. You can view any returned documentation by your instructor for your peer in the Returned tab. Once your documentation for your peer has been completed, it will show in the Completed tab.
To view your progress, click on the blue buttons showing View Pathologies Progress or View Scenario Progress at the top of the page. You will see a graph that shows your progress in each skill with green showing completed and yellow showing pending.