Once a test has been associated with a class and one student has started that test, it can no longer be edited. So what we're going to walk through, is how to create a new test and pull all questions from the test you want to edit.
If you want to administer the same test, just with a few questions changed, you can follow these instructions to do so.
First, create a new test. Go to 'Manage Tests' on top red toolbar, then click the 'create new test' button shown below
Give it a name, title, provider level and test type.
Click 'create' on the bottom right to get to the questions criteria tab shown below

To add all questions from the test you want to edit use the middle option titled 'Pull Questions From My Active Tests'. This will bring up the window below. I already know the original test is 'test 45' and it has 20 questions. 
Even though I want to get rid of 5 of the 20 questions on the original 'test 45', I'm going to pull all 20 into this test for now, so that I can get rid of the correct 5 questions once they are added. So I am pulling 20 questions from test 45 then clicking 'save criteria' to the right. It will now bring in the questions and bring us to the 'Test Questions' tab shown below.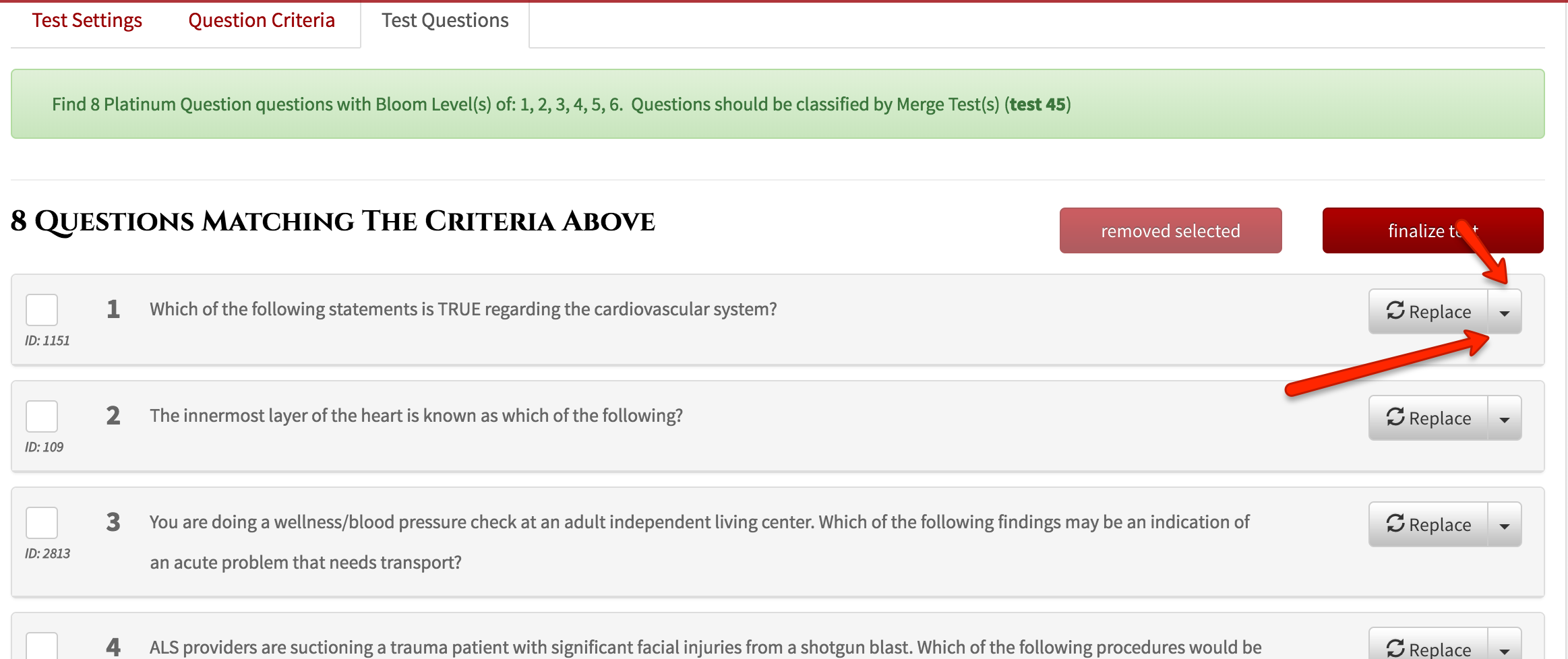 Once you identify any and all questions you'd like to remove, you can use the down arrow next to 'replace' to choose the 'remove' option. This removes this question from this test. 
Once you've removed the questions you want to remove, you can add in questions to replace them (if you wish to) by going back to the 'Question Criteria' tab and adding them by keyword or curriculum like normal.
As with creating all tests, once you are happy with the questions on the test, you must click 'finalize test' on the 'test questions' tab to complete the test and make it addable to a class.

As always, if you have any questions, just submit a ticket to our support team, or give us a call at (616) 818-7877