From your Instructor homepage, you'll click on the name of your class and select the "Edit Class" button.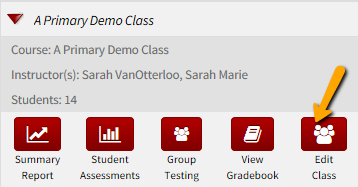 Then you will choose the "Adaptive" tab.
This is where you can decide how many tests you want your students to take. A comprehensive test will count as one test as will a test on a single module. If you leave the default setting of "0" students can take as many tests as they want. You can go back at any time and adjust this number as needed.
Next, you will choose the Curriculums and Modules that you want your students to be able to test on.
Once you are satisfied with your selections click "Save." If this is a current class, any student in that class will be able to begin testing on the topics that you have made available.
If you still have questions please give us a call at 616-818-7877 or send in a support request via the "Help" button.