On the Preceptor homepage inside of Platinum Planner, some preceptors will see an option in their toolbar called "Reports".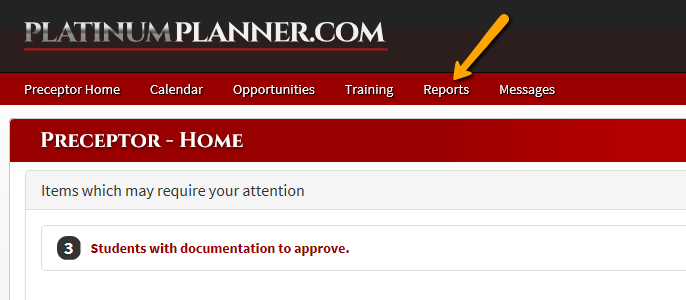 This feature will allow trained preceptors to run an Affective Student Evaluation Report on the students that have granted them access inside the system to view information regarding that student's shifts in their Field Internship Capstone Class(es).
Instructors, please note: Preceptors must have a "Trained Date" in the system to be visible to students for them to select, to grant access.
If a student has granted you access, when you click on the "Reports" option and then the "Affective Student Evaluation Report" when you look in the "Student" dropdown their name will appear as an option to select.
Once you have selected the student, you can choose to look at a specific date range or leave the "Start Date" and "End Date" blank.

You can select "Show preceptor comments" to include comments written by other preceptors about the student's performances.

The next step would be to click the "Run Report" button.
This will cause the program to display a report conveying the averages of all of the ratings from the Affective Student Evaluations tied to that student's Field Internship shifts. It will appear similar to the example above.
If you still have questions please feel free to give us a call at 616-818-7877 or send in a help requests via the "Contact us" button.