If you have a reason to edit a student's score for a particular quiz/test/module exam/final exam there is absolutely a way to do that.
From your instructor home page, click on the name of the class, then the "View Gradebook" button.
This will take you to the "Class Grade Book" page, which will display the tests that have been administered in your class and your student's scores. If you scroll over a particular score, two buttons will appear labeled "hide" and "edit". To change the score of an item just scroll over the grade and click "edit".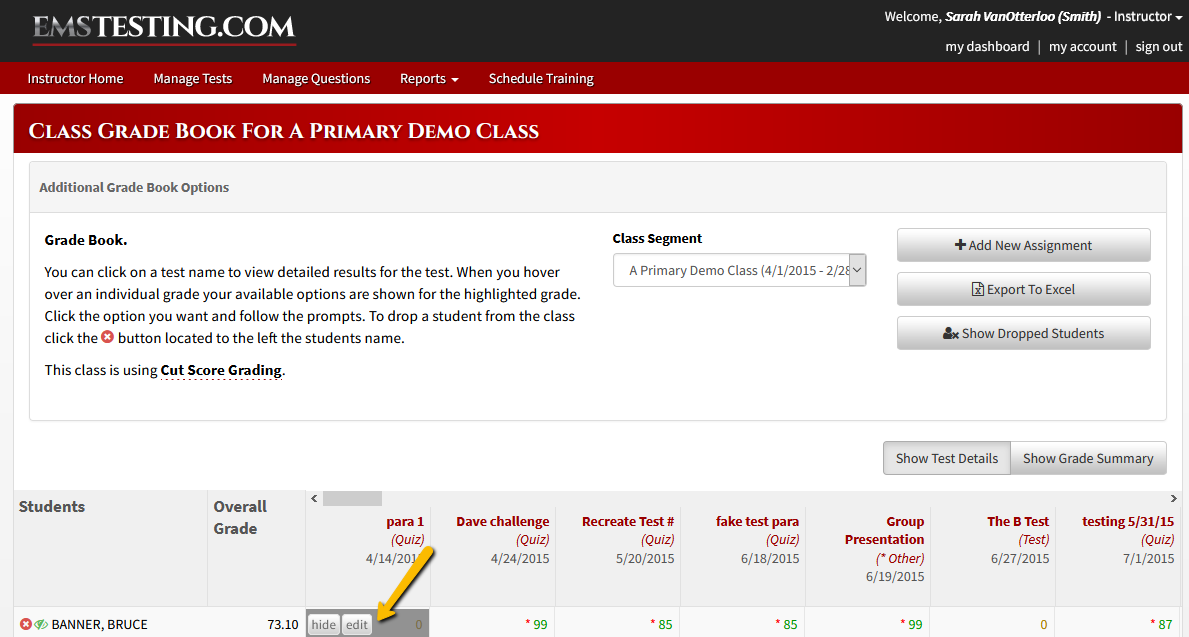 This will cause a small pop up window to appear. To adjust the grade, put a check in the box next to "Override calculated score", then enter the new score in the "Manual score" field. You can choose to put a message in the "Comment" box. This message will be visible to the instructor and the student. Once you are done don't forget to click "Save".
When a grade is manually changed like this it causes the grade to have a red asterisk in the box with it. If there are comments, you will also see an icon next to the score. To read the message you can hover over it. In the example below I've edited several of the student's grades.

The other option when scrolling over a grade is "hide". This will hide the grade from the student, but more importantly, it takes this grade out of the equation for the overall grade. Hidden grades will still show in the grade book for you the Instructor, but will be greyed out.
As always if you have any questions or concerns feel free to submit a help ticket or give us a call at (616) 818-7877.