If you need to be invoiced for a credit purchase, please call 616-818-7877 and ask to speak to our accounting department.
If you are an Administrator in your school, you can add credit to your institution with a credit card in the program by following these instructions:
First, you will click on the "my account" link in the upper right of your dashboard. This will bring you to your "Account Information" page. 
Here, you will want to select the  "Edit School" or "View School" option.
Note: Which text you will see will be based on your access at the school. If you are the Primary Contact it will say "Edit School" if you are not it will say "View School".
This will take you to the "School Settings" Tab and the "Edit school" section. 

Next scroll to the bottom of the page where you will see the "Current School Balance". Then click the "Add School Credit" button. 
This will cause the "Add School Credit" window to appear. Here you can enter a School Access Code, Student Access Code, or enter your credit card information to add credit to pay for student access. Once you have entered your code or card info then click "Submit".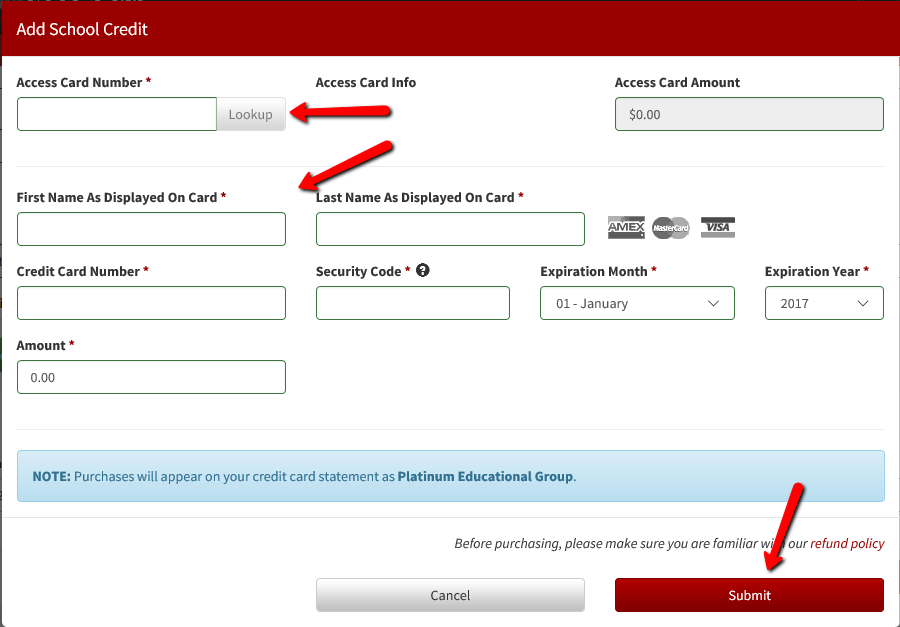 If you still have questions please give us a call at 616-818-7877 or send in a support request via the "Contact Us" button.