In Platinum Planner you can schedule automatic emails to be sent out to people associated with your clinical and shared sites.
From your School Administrator homepage, you will click on the "Courses/Classes/Sites" link in your red toolbar. 
In the drop-down that appears you will want to select "Manage Calendar Emails."

 This will take you to your "School - Manage Calendar Emails" page. To Create a new schedule, you will click on the "Add New Schedule" button in the upper right.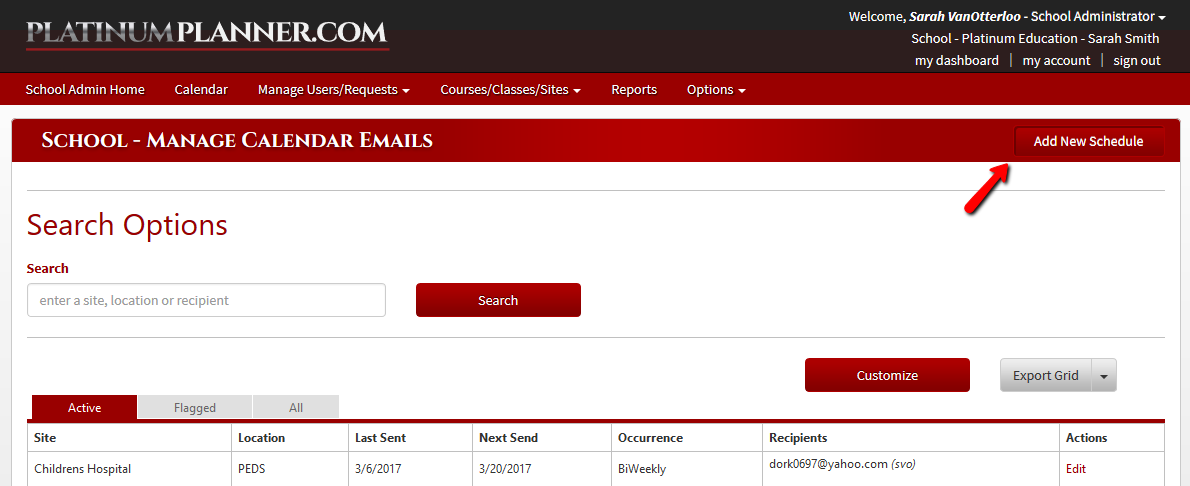 This will bring you to the "School Administrator - Add A Calendar Email Schedule" page. In the "Calander Source" drop-down you will select the type of site you wish to create the schedule for.
Once you have selected the source, your site options will appear in the Clinical or Shared Site drop-down. then in the "Location" drop-down.
Note: flagged sites and locations will not appear as options in the site and location drop-downs. If the site or location that you wish to create a schedule for is missing from the drop-down, you may want to verify that it has not been flagged.
With the "Occurrence" drop-down you can select the frequency with which the emails will be sent out. Then select the date of the first occurrence.

In the "Add A New Recipient" section you will add the "Email" and the "Name" for the individuals that you wish to send the schedule to.  You can add multiple recipients.
Once you have finished adding your recipients, click "Submit" on the bottom right of the page. 
Now that the schedule is created, a calendar for the following 5 weeks of scheduled opportunities for the site and locations you have selected will be sent to the recipients you added. 
As always, if you still have questions feel free to give our support team a call at 616-818-7877  or send in a request via the "Help" button and we will do our best to assist.